Saw Lodge Farm Lakes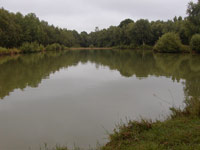 There are lots of carp in all the pools with sizes running into mid doubles, but the majority are around the 5lb mark. Let us know what you catch and send any of your catches into us using our easy 'Prize Fish' box on the Gallery Page.
Due to the high stocking levels in these waters it is a great place for match fishing, novices and youngsters. It will also be a good place to go during the winter months when our other waters slow and you want to catch plenty of fish on those freezing cold days to keep you warm and active!
The largest lake is the Duck Lake at 2 acres with depths of about 5ft with a small island on one side. Surface baits will come into their own in warmer months.
Next is the Middle Lake at 1 acre and similar depths to Duck Lake. Again surface baits would provide plenty of sport on here.
The Stock Pond can be fished but it will have higher numbers of fish in and they will be smaller obviously. A nice little pond for some frantic action.
There is also a small pond next to the owners house called Willow Pool. Looks can be deceiving as we know there are some big carp lurking in there.
Please be aware that the owner closes the venue occasionally for private shoots.
There is a 2 rod maximum at this and all CADAC waters.
Read more about the Saw Lodge Farm Rules
Recent Catch Report -
My two friends and I fished Saw Lodge Farm today, for the first few hours we fished on Stock Pond where my friend Dave was using a feeder rod with two 10mm boilies which produced carp after carp all about a pound in weight.
We then moved to the Duck Lake (can see why they call it Duck Lake but the ducks are no trouble) Dave fished a feeder rod again with 10mm boilies, once they started feeding, the line would barely settle and it would be fish on, all carp coming in at 1-3lb with some bigger, this was frantic action for Dave all day, he must have had well over 70 fish.
My other friend, John and I fished with two carp rods each. I was using 15mm Cell scattering baits over an area which really got them going, I must have had more than 15 carp around 7-10lb with some smaller ones but lost quite a few due to using barbless hooks. At one point I was playing a good size fish and my other rod went screaming off, I was standing there with two rods in hand shouting for help. John was using white chocolate and coconut with a red scopex topper on one rod and an amber strawberry with an orange scopex topper on the other rod which also produced a good head of carp, again around 7-10lb
I love carp fishing and generally sit it out on harder waters trying to target bigger fish but I have got to say "What a day" I have not enjoyed a fishing session so much in a long time; it was a fantastic days sport.
I am typing this email with aching arms due to all the action we had!
Public access to our waters is not permitted.
Access to all CADAC waters is strictly for members only.
All our waters are secured with padlocks.
Members can find the code on the back of their current Membership Card.