Burnt Wood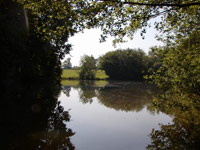 BURNT WOOD CLOSED
Tree felling will take place between Monday 17th Jan to Friday 21st Jan 2022.
No access for anyone during these dates.
We thank you for your support while we work to improve the water for the long term.
Posted 03/01/22
A CADAC owned lake about 1.5 acre in size and average depths of around 11ft.
This quaint, tree lined lake holds a good head of Carp to 22lb, some specimen Bream, Roach and Tench, Rudd and some really good sized Perch.
With plenty of bankside cover, overhanging trees and a shallow bay, this offers the angler some very good close in action and is perfect for the stalker anglers among you.
It is a particular winter favourite with our members as it seems to fish well right through the winter months.
Night fishing is allowed on this lake with the parking area just 30 yards from the bank.
There is a 2 rod maximum at this and all CADAC waters.
Public access to our waters is not permitted.
Access to all CADAC waters is strictly for members only.
All our waters are secured with padlocks.
Members can find the code on the back of their current Membership Card.