Runham Lake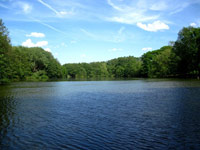 This venue is a lovely 5 acre estate lake in Harrietsham.
It contains huge Perch, lots of Rudd, Roach, Carp around 4lb with some to 10lb, Tench to 5lb and we have stocked 200 Chub and 200 Perch in 2015 that are piling on the weight.
The River Len runs through it which provides plenty of good quality water keeping the fish feeding and making the fishing perfect for beginners and pleasure anglers alike.
With lots of bank space it is a perfect Match water that can easily hold 30 anglers.
Depths are around 4ft.
The car park is just 20yds from the lake, making access very easy.
Night fishing is permitted as long as everyone behaves themselves and takes their litter home.
There is a toilet here for members to use from April to Nov -
MAKE SURE YOU USE IT!
We hold all of our junior events at this venue as this is an excellent place for kids to catch plenty of fish.
We also host evening taster session events for local cub groups here as well.
Please be aware that the venue is closed during these events.
Read more about the Runham Lake rules - HERE
Public access to our waters is not permitted.
Access to all CADAC waters is strictly for members only.
All our waters are secured with padlocks.
Members can find the code on the back of their current Membership Card.