Pattenden Lane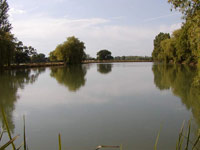 A well established farm reservoir of about 2 acres in size average depths of around 11ft with several willow trees overhanging the water.
A very good lake providing firm, level swims and a some very nice fish!
Mainly Carp up to 20lb, Tench, big Perch, Roach, Bream, Rudd and Ide.

Parking is available just 30m from the lake.
Night fishing is allowed only with prior booking.
To book nights at Pattenden, please contact Paul Franklin (please note Paul Works Monday to Friday 8am to 5pm, so cant answer the phone always in these times), requests must be at least 24 hours in advance:
Paul Franklin 07704139511
There is a 2 rod maximum at this and all CADAC waters.
Stocking of silver fish took place in March 2013 and September 2014
Videos
Read more about the Pattenden Lane Rules
Please be aware that there are matches on this water.
Next matches are on:
TBC
Public access to our waters is not permitted.
Access to all CADAC waters is strictly for members only.
All our waters are secured with padlocks.
Members can find the code on the back of their current Membership Card.