Park Farm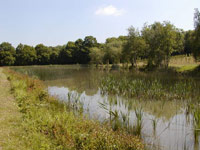 A well established farm reservoir of about 1½ acres in size and average depths of around 6ft situated at the bottom of a farmers orchard.
This reed lined reservoir may be small but it has some superb sized fish. A good head of Carp, Tench and beautiful Rudd.
It also contains lots of small Roach and Rudd and the odd jack Pike.
If it is a carp you are after, a specimen Rudd or just an evening's float fishing for Tench, then this quiet reservoir is the perfect place to be.
Notice
Access is from 4am to 10pm - except for Thursdays when we have to be out the gates by 4.30pm. - Please note you must be out of the gates by these times and not anywhere inside the gates.

There is a 2 rod maximum at this and all CADAC waters.
Public access to our waters is not permitted.
Access to all CADAC waters is strictly for members only.
All our waters are secured with padlocks.
Members can find the code on the back of their current Membership Card.