New and Old Dowells River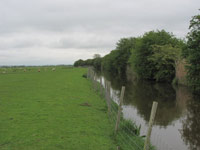 This stretch of water is a narrow drainage system extending from the Royal Military Canal at Appledore.
Normally average depths of between 3-6ft and around 20ft wide but in the summer months heavy weed extends out from the banks to create a narrow fishable channel.
A real stalkers water that contains some magnificent, yet shy specimens including:
Bream averaging 6lbs
Tench averaging 6lbs
Roach averaging 1lb
Carp averaging 10lbs
Pike to 20lbs
Read a recent catch report HERE
Large baits work well here with the old favourites like worm, flake or corn bunches with plenty of loose feed.
The fish are extremely shy and if you are careful, can often be seen in the margins discolouring the water and slurping in the weed, if you hook a big fish, it may pay to move along as the commotion may have sent the others elsewhere!
This water is set in the fantastic surroundings on the northern edge of Romney Marsh, is hardly fished and will probably throw up some very big surprises for the mobile angler.
Night fishing is permitted at this venue
Public access to our waters is not permitted.
Access to all CADAC waters is strictly for members only.
All our waters are secured with padlocks.
Members can find the code on the back of their current Membership Card.