Rosemary Lakes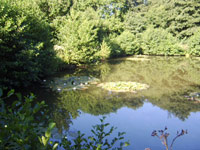 Rosemary Lakes are an ideal alternative for those seeking small intimate pools that are quiet and full of fish. This venue is not a specimen venue but like all these places, it's bound to throw up some surprises!
There are three lakes in total:
Wood Lake
Contains mixed species - Rudd, Perch, Bream, Carp with ghost carp to 13lb and Tench.
It is approximately 3/4 of acre in size with depths of between 1ft to 4ft deep.
There are a few sets of lily pads to fish to which no doubt will be a haven for fish in the summer months.
Light tackle and methods are all that is needed here with float and method feeding techniques working well.
A pleasant and quiet all round pleasure lake.
The Match Pool
This small pool is full of silver fish and small carp, a great place to bag up.
It is approximately 1/2 acre size. A good place to hold matches on.
Pads Lake
About the same size as the Wood Lake at around 3/4 of an acre, with plenty of sets of pads to fish to.
Much the same stamp of species as Wood Lake too with Carp, Bream, Perch, Rudd, Tench and possibly small catfish.
Lots of fresh water mussels in the lake, so the water quality is good and the fish are in pristine condition.
There are approximately 9 swims here with plenty of room between each swim.

All three pools can be night fished but ONLY if booked with Wayne Ellis (07951 090735) prior to your trip.
There is ample parking just inside the gate if it is wet but you can park close to the lakes at the bottom of the track. But, and this is a big BUT, only go down there in your car if it is dry, and will remain dry. If it gets wet and muddy you WILL get stuck and there won't be anyone to pull you out, so be warned!
Public access to our waters is not permitted.
Access to all CADAC waters is strictly for members only.
All our waters are secured with padlocks.
Members can find the code on the back of their current Membership Card.