Springwood Fishery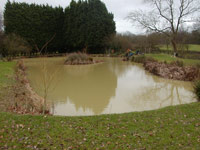 Springwood Fishery is an exciting fishing venue for CADAC members that boasts 4 mature fishing lakes, formed around 25 years ago, each one offering something for every angler. The hillside location is set in quiet surroundings on the border of Kent and Sussex.
The Main Lake is 2.5 acres with 15 swims and depths to 14ft in some places. 79lb catfish, carp to 31lb, specimen tench, perch and roach can be caught here.

The Beech Pool is an intimate ½ acre with 35lb catfish, lots of 5lb+ tench, roach and a few mid double carp.

The Match Lake has 10 platform swims around ½ acre and contains small carp, tench, perch, bream, roach and rudd.

And the Top Pool holds carp, bream, tench and roach. This pool is ideally suited to disabled anglers with easy access from car park.

Night fishing is permitted on the Main Lake and Beech Pool only.
Please note: Maximum 48hr in any one swim
This venue also has the rare benefit of onsite toilets, showers and washing facilities which are located next to the gravel car park and fishing lodge.
We do have to share this water with the owners fishing lodge tenants and caravan club holiday makers. For more details click HERE
Public access to our waters is not permitted.
Access to all CADAC waters is strictly for members only.
All our waters are secured with padlocks.
Members can find the code on the back of their current Membership Card.